ENTERTAINMENT
Enjoy a Trip to Delhi Agra Mathura Vrindavan for 2 Days During Holi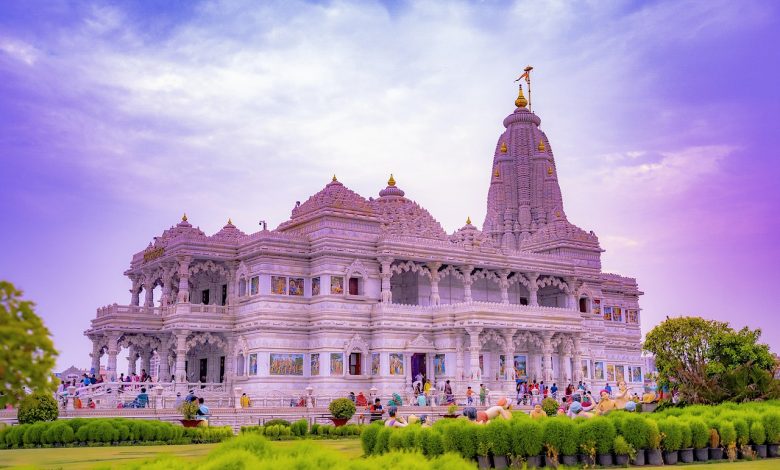 Introduction
Experience the vibrant colors, joyous celebrations, and cultural richness of Holi in Delhi Agra Mathura Vrindavan! This two-day tour during Holi is a fantastic opportunity to immerse yourself in the festive spirit of India. From exploring iconic landmarks to witnessing traditional rituals, this trip promises an unforgettable experience. So buckle up and get ready for a whirlwind adventure through these enchanting cities as we guide you on how to make the most out of your journey during one of India's most exuberant festivals. Let's dive into the world of Holi magic!
What is Holi?
Holi, known as the Festival of Colors, is a vibrant and joyous celebration that marks the arrival of spring in India. It is observed with great enthusiasm all over the country and holds deep cultural significance. The festival typically takes place in March and lasts for two days.
During Holi, people come together to throw colored powders and water at each other, creating a mesmerizing kaleidoscope of hues. This playful act symbolizes the triumph of good over evil and promotes unity among communities.
Apart from the colorful revelry, Holi also involves traditional rituals such as bonfires called Holika Dahan. These bonfires are lit on the eve of Holi to commemorate the legend of Prahlada and his aunt Holika. People gather around these fires, sing songs, dance, and offer prayers.
Holi transcends barriers of age, gender, and class – everyone joins in on the festive fervor. It's a time when friends become family and strangers become friends as they exchange warm greetings while smearing colors on each other's faces.
This electrifying atmosphere combined with mouth-watering delicacies like gujiyas (sweet dumplings) and thandai (a cooling drink), makes Holi an experience like no other.
So get ready to immerse yourself in this riotous carnival of colors during your trip to Delhi Agra Mathura Vrindavan – it's an opportunity you don't want to miss! Stay tuned for our next section where we'll explore some thrilling places to visit during Holi festivities!
What are the Best Places to Visit during Holi?
During Holi, there are several amazing places to visit in Delhi, Agra, Mathura, and Vrindavan that can make your trip truly memorable. Let's explore some of the best options!
In Delhi, you can head to the iconic India Gate where a vibrant carnival takes place during Holi. The atmosphere is electric with people splashing colors on each other and enjoying delicious street food. Another must-visit spot is the famous Purana Qila (Old Fort) where you can witness a grand celebration of Holi with traditional music and dance performances.
Agra, home to the magnificent Taj Mahal, offers a unique experience during Holi. You can enjoy playing with colors at Mehtab Bagh while gazing at the stunning view of the Taj Mahal in all its glory.
Mathura and Vrindavan are considered the birthplaces of Lord Krishna and are renowned for their extravagant Holi celebrations. The Banke Bihari Temple in Vrindavan is particularly famous for its Lathmar Holi festival where women playfully beat men with sticks! It's an exhilarating experience filled with laughter and joy.
These destinations offer a perfect blend of cultural heritage and festive fervor during Holi. So pack your bags and get ready to immerse yourself in the colorful festivities of the Delhi Agra Mathura Vrindavan tour for 2 days!
How to Make the Most of Your Trip to Delhi Agra Mathura Vrindavan during Holi?
When planning a trip to Delhi, Agra, Mathura, and Vrindavan during the vibrant festival of Holi, there are several things you can do to make the most of your experience. Immerse yourself in the colorful celebrations by participating in traditional Holi rituals and playing with organic colors. The streets come alive with joyous music and dance, creating an electrifying atmosphere that cannot be missed.
To truly embrace the essence of these destinations during Holi, explore their historical and cultural landmarks. In Delhi, visit iconic sites like the Red Fort and India Gate; in Agra, marvel at the majestic Taj Mahal; while Mathura and Vrindavan offer a spiritual journey through temples dedicated to Lord Krishna.
Indulge your taste buds by savoring local delicacies such as bhang pakoras or gujiyas – mouthwatering treats synonymous with Holi festivities. Additionally, don't miss out on witnessing incredible performances of folk dances like Raas-Leela depicting Krishna's playful interactions with his devotees.
Capture memorable moments by taking photographs amidst the burst of colors or joining locals for a fun-filled water fight. Remember to respect local customs and traditions during this festive time while ensuring your safety amid crowded spaces.
By following these tips and immersing yourself fully in the spirit of Holi celebrations, your trip to Delhi Agra Mathura Vrindavan will undoubtedly be an unforgettable experience filled with vibrant colors and cherished memories!
What Are Some Things To Keep In Mind When Traveling During Holi?
When planning a trip to Delhi, Agra, Mathura, and Vrindavan during Holi, there are a few important things to keep in mind. It's essential to be prepared for the vibrant chaos that comes with this festival of colors. The streets will be filled with people throwing colored powders and water at each other, so make sure you wear clothes that you don't mind getting dirty.
Another thing to consider is the transportation during Holi. Due to the festivities and increased footfall, public transport may be crowded, and finding taxis or rickshaws might take longer than usual. It is advisable to plan your itinerary accordingly and give yourself ample time for travel.
Holi can get quite rowdy in some places, especially in Mathura and Vrindavan where it is celebrated on a grand scale. While it's an exciting experience, remember to stay vigilant of your surroundings and keep your belongings safe at all times.
Additionally, keep in mind that many shops and businesses may have limited hours or even close during Holi celebrations. It's always good practice to check ahead if any attractions or restaurants you plan on visiting will be open during this time.
Last but most importantly, respect local traditions and customs while participating in the festivities. Be mindful of others' boundaries when applying colors to them and seek their consent before doing so.
By keeping these tips in mind when traveling during Holi in Delhi Agra Mathura Vrindavan tour for 2 days, you'll ensure a memorable experience filled with joyous moments amidst the colorful celebrations!
Conclusion
A trip to Delhi, Agra, Mathura, and Vrindavan during the vibrant festival of Holi is an experience like no other. From witnessing the colorful festivities in Mathura and Vrindavan to exploring the historical sites in Delhi and Agra, this 2-day tour offers a perfect blend of cultural immersion and sightseeing.
During your visit, make sure to indulge in the traditional rituals of playing with colors and enjoy the lively atmosphere that envelops these cities during Holi. Take part in local events, dance to traditional music, savor delicious sweets like gujiyas and thandai, and immerse yourself in the joyous spirit of this festival.
To make the most out of your trip:
Plan your itinerary carefully to ensure you have enough time for each destination.
Book accommodations well in advance as they tend to fill up quickly during Holi.
Dress appropriately for the occasion – wear comfortable clothes that can be easily washed off after playing with colors.
Ensure you carry essentials such as sunscreen, sunglasses, hats/caps, water bottles, and wet wipes.
Respect local customs and traditions while participating in Holi celebrations.
Remember that traveling during Holi can be chaotic at times due to increased crowds and traffic congestion. Stay patient throughout your journey as delays may occur but embrace it as part of the experience.
Delhi's rich history combined with Agra's iconic Taj Mahal and Mathura-Vrindavan's spiritual significance makes this tour a memorable one. So pack your bags, prepare for a riot of colors on every corner, rejoice in festive fervor, and embark on an unforgettable journey through these enchanting cities with customized travel package options available on the official website of Four Wheel Drive India!
Whether you are seeking cultural experiences or simply want to witness India's grandest celebration firsthand, a Delhi-Agra-Mathura-Vrindavan tour during Holi will surely leave you with cherished memories that last a lifetime.
Also Read more articles like this!