ENTERTAINMENT
Walking in Style: Exploring the Fashion and Function of LED Shoe Lights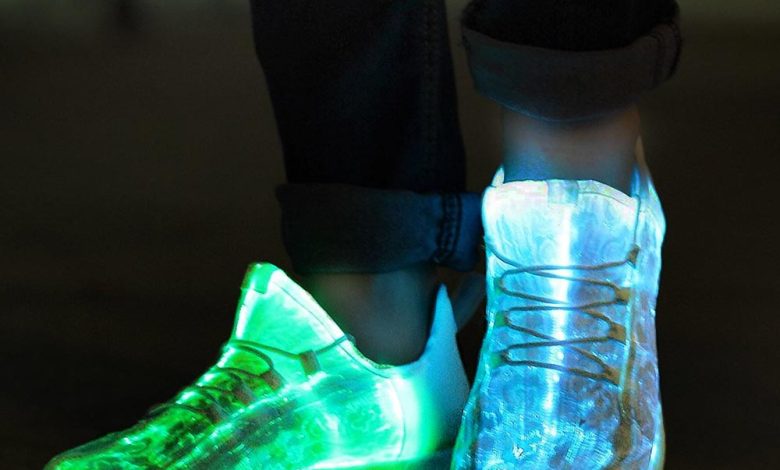 LED shoes are trendy and aid you in standing out from the crowd. If you get a good pair, they will be stylish, durable, and even comfortable to wear. Kids are especially drawn towards these shoes with the LED shoe light located inside the shoes sole. However, there are many options for adults as well. Some adults even prefer wearing these shoes so that they can walk in style. These shoes are made for walking, dancing, or also for sports along with professional use. This depends on the ones that you get. It is possible to get them in different shapes, sizes, and also designs so that you can get the one that you like. 
The following looks at the fashion and function behind the LED shoe light:
Color modes
When looking at these shoes, there are different color modes provided by the specific shoes. If you are able to have multiple color codes within the shoes, these will provide high flexibility when it comes to color altering patterns. 
Different LED shoes provide different color modes. You may be able to select from the range of 8-12 amazing color modes. 
According to the style and impression you want to give, you can choose the LED shoe light that you like and which can show your personality. 
When looking at the LED shoe light, today you can find a huge variety of color options present. The designs will not only be different in colors, but in light brightness as well as flashing intensity. There are some LED shoes that have a steady and constant color and others provide flashlights that have varying combinations and that at different intensities. 
There are some models that provide light flashing patterns which employ different colors plus combined colors at a time. 
You need to keep in mind that the shoes that have a much quicker flashing intensity or a fast use of color combinations as well as patterns tend to be relatively less strong when compared with traditional light up shoes. 
You can choose which one to get by looking at the fashion statement the shoe will give. 
Style of shoe
No doubt, you need to check out the style of LED shoe before buying it. Nowadays you can find many style options allowing you to choose from a huge variety of options. Carefully check out how the shoe looks so that you can get the one that you will like wearing. 
You can find normal looking sneakers and those that have a funky look to them. There are many fashionable pieces available to choose from. The look of the shoe can be enhanced with the LED shoe light. 
You can choose what color shoe you want and also what color light you want it to give. This will allow you to look fashionable. 
Lighting mechanism features
The lights tend to be the main attraction that these shoes have. This is why you need to check the way that they work, their brightness levels, and more. You can get two basic types of these shoes, i.e. pressure-activated along with rechargeable. You can choose the one that you think will look fashionable and be comfortable to wear. 
With the pressure-activated ones, the built-in sensors present in these are able to get activated at the time that you step, jump, and stomp with the shoes. The shoes will then light up. These shoe models are effective to use as the LED shoe light will only illuminate at the time that pressure is applied. 
When it comes to the rechargeable ones, these have control switches as well as USB charging ports. These are found inside the tongue or even close to the heel collar of this shoe. The light up shoes will continue illuminating until the battery dies or till the shoe light is switched off. The models have a few hours of battery life. Most models can charge fast and   often boast variable light settings. You can choose the one according to how long you want the shoe lit. 
Function
The LED shoe light has important functions as well. The shoes are not only fashionable but they have different purposes. 
You can wear them at night when going for a walk or talking your pet for a walk. People will be able to notice that you are walking when you have these shoes on. It is possible to wear them to a night club where light is limited so that your friends can recognize where you are.                                                                           
Those who are wearing the shoes can be easily noticed due to the light present in them. 
It is usually expensive to buy an iPhone but if you have one, you will want to use it for as much time as possible. Your phone may have experienced some damage due to falling down hard upon a tough surface. The iPhone LCD may have gotten damaged. The LCD or Liquid Crystal Display screen is what is responsible for the display as well as touch-response function of the device. You will probably want to fix it. This can be done when you get an iPhone LCD unit panel. These are available from different manufacturers. It is better to buy it from someone who is trustworthy if you want to get a good product that will work properly in your phone and give you good results. You do not want to end up with something that will spoil your phone more and make it be unresponsive.
This is a main part of the phone and you should invest in a good quality iPhone LCD if you need to buy one. Get it installed by someone trustworthy as well so that they do not take out other parts of your phone in the process. Make sure the LCD is the right one for your iPhone model.
If you want to get stylish shoes to wear that will make you look prominent, you can consider LED shoes. There are different LED shoe light options and styles allowing you to choose the one that stands out to you.