WORLD NEWS
How Electrician Training Programs In Philadelphia Prepare You For Licensure?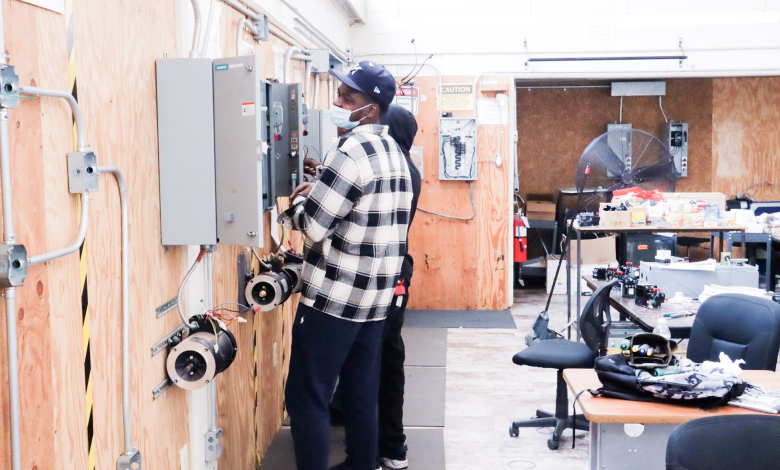 People typically take electricity for granted and may not give the electricians who make sure that lights, computers, and appliances all function properly much attention. Electricians are qualified professionals who install, repair, and check wiring systems. Additionally, these people can decipher designs and wiring schematics and handle various electrical issues. These can be learned through electrician training program.
According to the Bureau of Labour Statistics, approximately sixty-five percent of electricians work as contractors. Government, employment services, and manufacturing organizations employ other professionals. Some electricians run their businesses. The development of alternative power production will drive some of the need for electricians. In this article, let's examine electrician training programs' role in obtaining their licenses.
Before Licensure
A high school or GED diploma is the first requirement for becoming a licensed electrician. Aspiring electricians can be better prepared by taking mathematics, English, physics, and shop drawing studies in high school. People should be aware of the usual workplace of an electrician before studying how to become one. The work may require frequent long-distance travel to several working locations, necessitating dependable transportation. Additionally, many electricians labor in sweltering conditions while bending over and kneeling for extended periods. Additionally, this line of work frequently requires working in small places and being exposed to fumes, dust, and grime.
Steps For Obtaining Licensure In Philadelphia
Attend Trade School
Electricians are highly competent trade workers despite the hazards involved in their line of work. Electrical technicians receive training to address various problems with electrical power, lighting, and control systems. They could be responsible for installing outlets and lighting fixtures in homes, or they might supervise electrical equipment in offices or industries—some work outside, fixing electricity boxes and other peripherals that keep civilization running smoothly. But most significantly, they guard against danger and deal with it when it arises to keep their neighbourhoods secure.
People can become licensed electricians with the help of vocational training. Even though not all positions demand it, aspirant electricians can increase their income and widen their work options by enrolling in trade school or a community college. About four months are needed for some qualification programs at trade schools. Up to two years are needed to get an associate degree.
During their electrician training, students are exposed to basic electrical principles, wiring schematics, and AC circuitry. Electrical motors and safety regulations are included in the training as well. The National Electrical Code is taught to students. All fifty states adhere to this regulation for installing, handling, and maintaining wire systems professionally and safely. Program duration, location, and whether a school is public or private all significantly impact tuition. Some trade school graduates may be able to shorten their apprenticeship but must waive it altogether. Online learning is widely available at many institutions, which might save expenditures.
Finding Electrician Degrees And Schools
Many electrician degree programs are available; you need to know where to seek them. Those who wish to pursue professions as electricians have access to these choices.
Vocational/Trade School
For electricians, trade and vocational schools provide diploma or certificate programs. In certain situations, you may start your study as early as high school. Though some may take longer, most programs last around a year.
Military
You may learn how to become an electrician in the military and take classes to further your knowledge, in addition to receiving a lot of practical training.
Community College
Community colleges offering associate degrees in electrical engineering and technology are an excellent option for aspiring electricians who wish to further their studies.
Applying For An Apprenticeship
To become a licensed electrician, finishing an apprenticeship as an electrician is essential. The National Electrical Contractors Association (NECA) can help students locate apprenticeships for which they must apply. Associated Builders and Contractors, Independent Electrical Contractors, and trade school programs are other places where people might discover apprenticeship opportunities.
In addition to on-the-job training, apprentices get mentoring from expert electricians and classroom teaching. Depending on the specialization, most electrical apprenticeships last three to five years and range from six to ten thousand hours. The length of an electrician apprenticeship may be shortened for people with appropriate experience in the military or construction. Apprentices can apply for a journeyperson license after completing their qualifications.
Study For The License
Electricians frequently need a journeyperson license or certification after finishing their apprenticeships and the state-required electrician training hours. The National Electric Code and other job-related topics are tested in an exam usually required for licensing. The National Electrical Contractors Assoziation lists state licensing and examination specifications.
In many states, license renewal includes continuing education that covers updated safety procedures, electrical code revisions, and product-specific training. A certification in a particular field, such as green energy or lighting systems, is another option for skilled electricians in addition to licensing.  As soon as a test date is scheduled, candidates for the electrician license exam should start studying. The National Electrical Code may be complicated for some people to navigate or comprehend. To rapidly locate the solution to each exam question, test-takers should spend time becoming familiar with each part and chapter.
Become An Electrician
Most electricians work for two years or so after receiving their journeyperson license. But after 5 to 9 years of work, they frequently advance to master electrician status. Professionals can take a master electrical test by state or municipal regulations after obtaining the required electrician skills and putting in around 12,000 hours of labor. Master electricians act as foremen or project managers while also supervising other workers. In most states, they can also open their own business.